The History of Laguna Seca
The vision for Laguna Seca developed out of the fabled Pebble Beach Road Races. During the 1950's, some of the world's best sports car drivers tested their skills on the roads winding through the Del Monte Forest. The races brought prestige, fans and money to the Monterey Peninsula. But, within a few years, the event had grown too big, and the cars too fast for the open road. The races needed a new home. Rather than see the event, and its fans and financial impact, go elsewhere, a group of local businesspeople came up with an idea - build a permanent, world-class race track.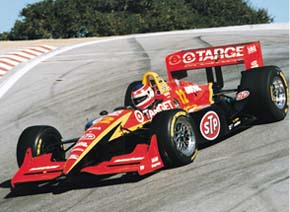 They founded the Sports Car Racing Association of the Monterey Peninsula (SCRAMP) on November 1, 1956. The charter for the non-profit group explained its mission, to "benefit local charitable and non-profit organizations and to promote the economic vitality of Monterey through the encouragement, solicitation, organization, sponsorship and perpetuation of motorsports events in the vicinity of the Monterey Peninsula." SCRAMP went right to work. The group leased Fort Ord land from the United States Army, and within a year the track was finished. On November 9, 1957, Pete Lovely won the first race at Laguna Seca.

In 1974, the Army transferred ownership of the 500-plus acre parcel containing the race track to Monterey County. At that point, the facility became a public recreation area under the jurisdiction of the Monterey County Parks Department. Despite its unusual arrangements, the race track has always been managed by one proprietor, SCRAMP.

SCRAMP has progressed from producing a single sports car race to promoting five major world-class motorsports events each year featuring national and international motorcycle racing, the Monterey Historic Automobile Races, NASCAR stock cars, Le Mans sports cars and the CART FedEx Championship Series.