Say goodbye to the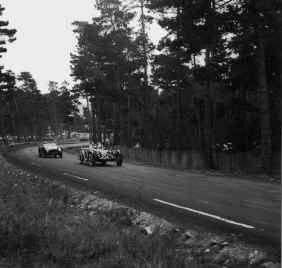 The corporation that manages Pebble Beach has recently won voter and regulatory approval to add another golf course to the town. The new "Forest Course" is due to begin construction in early 2004. It will cover about half of the original road-racing course depicted in this GPL recreation. Many of the original roads will be torn up and the track will finally be gone for good.
If you want to visit the old road course, do it soon. It will likely be gone by the middle of 2003.
Specifically, the new golf course will fill in some of the area between the existing Cypress Point Club and Spyglass Hill golf courses, reaching south to the location of the equestrian center. In racing terms, that means that roughly two-thirds of the track, from T3 to the S/F line, will be torn up and covered with fairways and greens. Pleasant, to be sure, but it spells the end or our beloved road course.
The roads provide a natural gap in the trees, so the new fairways will follow the roads as much as possible. That way, fewer trees need to be cut down (which is a sensitive subject around these parts). Parts of Portola Road (the main straight), Alvarado Road (T3 to T4 hairpin), and Stevenson Road (T4 to T5, and again from T6 to the kink) will be unpaved and replaced with greenery. Bristol Curve will be removed completely. (This was a new road anyway, built after the races had moved to Laguna Seca.) An expanded driving range, new parking lot, maintenance building, and restrooms will be constructed near the T6 hairpin. (You know where you overshoot the stop sign and run off at the final corner? That's where the new parking lot will be.)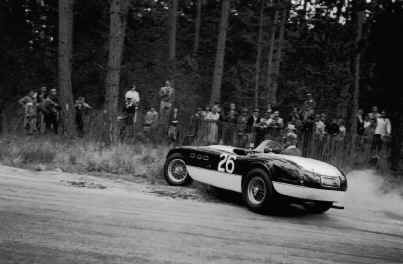 The large infield area by the start/finish straight, which has housed the equestrian center since the 1920s, will be resurfaced to become the 9th, 10th, 11th, and 12th holes. The equestrian center will move to another part of Pebble Beach, about two miles away.
Progress marches on. It will be sad to see this small part of road racing history disappear. In truth, I enjoyed driving along the roads that Phil Hill, Jack McAfee, Sterling Edwards, Ken Miles, Masten Gregory and many others had driven so brilliantly in the 1950s. Even if I had to walk the parts of the old course that are no longer open to vehicular traffic, at least I could follow all of it. Soon, alas, that will no longer be possible. A small part of racing history will be buried under the well-manicured fairways of the Pebble Beach Forest Course. Remember it as you watch the tournaments on TV.
-- Jim "RoadHazard" Turley