---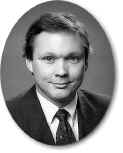 Jim Turley is an industry analyst and editor specializing in the technology and business of microprocessor chips, embedded technology, and semiconductor intellectual property (SIP). As a direct result of his work, stock prices have fallen 70% in two days and large engineering groups have altered chip designs. It's analysis and consulting that makes a difference.
He is most widely recognized as a past editor of Microprocessor Report, the prestigious industry journal and three-time winner of the Computer Press Award. He was also the editor-in-chief of Embedded


Processor Watch, a weekly newsletter that kept thousands of subscribers on top of the embedded-processor industry. Also, Jim was a vital part of the annual Microprocessor Forum and host of the Embedded Processor Forum conferences, held every year in Silicon Valley.

Turley is the author of five books, published by McGraw-Hill and Academic Press, including best-sellers such as PCs Made Easy and technical references used in university computer science programs such as Advanced '386 Programming Techniques. In addition to his own books, Turley acted as technical editor for many more trade books covering C++ programming, Unix, Windows, and PC hardware.

"The best of the bunch... "
San Jose Mercury News review of "Compact Guide to Windows 95"

Jim contributed regular monthly columns for Embedded Systems Programming, and Supermicro magazines. In addition to these, he has contributed hundreds of articles for other industry magazines. Jim is often quoted in the Wall Street Journal, Forbes ASAP, New York Times, Business Week, San Jose Mercury News, the Portland Oregonian, San Francisco Chronicle, and the Austin American/Statesman; Jim also appears frequently on television, radio, and Internet broadcasts.
Turley's industry experience most recently included a senior executive position with a publicly traded IP company, as well as senior marketing and senior strategic technical management at firms in the US and in Europe. Career experience includes taking a private company public (including business plan, IPO roadshow, and support of investors and financial analysts worldwide), engineering management, marketing management, worldwide training, competitive analysis, sales- and marketing training. All the while, Turley also served as keynote speaker, writer, and editor for a number of industry conferences and publications.